About Us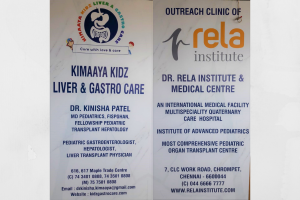 An advance paediatric subspecialty clinic to provide special care to children from newborn up to 18
years with gastrointestinal disorders, liver disease. It is the 1st clinic in Gujarat providing pre & post liver transplantation care for children. It is an outreach clinic of Dr. Rela Institute & Medical Centre, Chennai.
Client Testimonials
Doctor Kinisha is a successful doctor as well as a very good person. Who is always ready to help everyone. She is always diligent towards her work. I always wish for your bright future.
SHIREEN QURESHI
Mother of Mahira
we met Dr. Kinisha, She didn't make us feel as if we are dumb for not understanding anything in one go.It was a lot to take in and she helped us understand. We are thankful to her for being our go-to person regarding any doubts.
Mahak Khetan
Mother of baby Aavya Khetan
You take care of me as your brother. You also give me positive thoughts which helps me to get cure fast. You never miss a round to patients and immediately come in case of emergency. We never had an excellent doctor like you before.
Bhagyesh Rokade
Hope this letter finds you in the best of your health. Congratulations on the decision of starting your own clinic in Ahmedabad. Words are not enough to express our feelings. We are so much indebted to you for being with us in the most difficult phase of our life.
Karodi Family