Recurrent Or Chronic Pain Abdomen In Children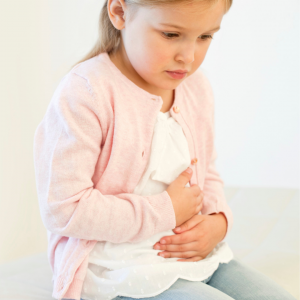 • WHAT IS RECURRENT OR CHRONIC PAIN ABDOMEN?
Any child having pain abdomen over a 3 months period with or without asymptomatic time interval is labeled as recurrent or chronic pain abdomen.
• WHAT ARE THE CAUSES OF CHRONIC PAIN ABDOMEN?
It is of two types: Functional and organic cause.
In most of children, its mainly functional cause (no pathology is found). Very few cases have underlying organic causes related to a specific organs. It can be due to anatomical problems, inflammatory processes, metabolic or other pathology.
• WHAT IS FUNCTIONAL PAIN ABDOMEN?
Functional abdominal pain is where no structural, metabolic, inflammatory or neoplastic process is found to cause significant abdominal pain.
• WHAT ARE FUNCTIONAL PAIN RELATED ABDOMEN DISORDERS?
Few functional disorders are functional constipation, functional dyspepsia, abdominal migraine, cyclical vomiting syndrome etc.
• BASED ON SYMPTOMS, HOW TO APPROACH A CASE OF RAP-TO DIFFERENTIATE FUNCTIONAL FROM ORGANIC
Usually functional pain abdomen is around umbilicus, nonspecific, non radiating, not related to any food intake, at various occasions and usually no night time symptoms. Basic physical examination and few investigations are needed to rule out common organic, pathological cause.
• WHAT ARE THE POSSIBLE REASONS OF FUNCTIONAL ABDOMINAL PAIN?
Functional abdominal pain is commonly due to stress, emotional disturbances, family environmental stimulatory factors, hypersensitivity of gut, altered intestinal motility.
• WHEN PARENTS SHOULD BE ALERT & CONSULT PAEDIATRIC GASTROENTEROLOGIST BASED ON RED FLAGS SIGNS OR SYMPTOMS?
If your child is having night time awakening due to pain abdomen
If pain is localized to specific region with tenderness
If your child is having radiating pain to other region
If pain is associated with fever, weight loss, enlarged abdominal organ, rash, blood in stool, diarrhea
• WHAT ARE THE INVESTIGATIONS TO RULE OUT ORGANIC CAUSE OF PAIN ABDOMEN?
Blood investigations
Ultrasound or contrast studies or other radiological investigations
Endoscopy
• WHAT IS THE TREATMENT OF FUNCTIONAL PAIN ABDOMEN?
Parents play an important role for behavioral therapy. Few dietary changes can be helpful. There is no specific treatment with antispasmodic medications as it may cause constipation and further aggravate the pain.