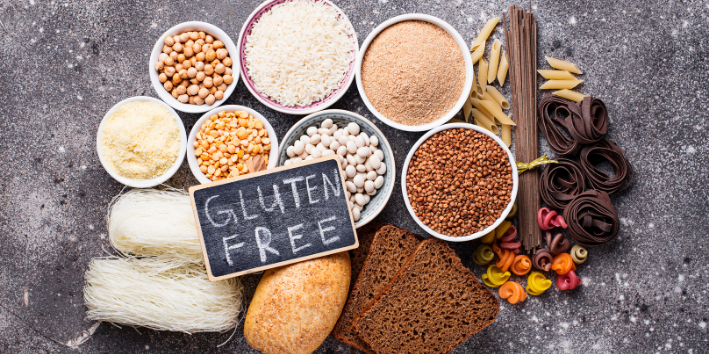 Celiac Disease Guide
What is celiac disease?
Celiac disease (pronounced as see-liac) is a serious illness, where own body's immune system attacks its own tissues (Usually gut- intestine) when you eat gluten. This causes damage to the lining of the intestine it cannot absorb nutrients from food properly and the symptoms appear at any age. Celiac disease is not an allergy or food intolerance.
Celiac disease is hereditary, meaning that it runs in families. People with a first-degree relative with celiac disease (parent, child, sibling) have a 1 in 10 risks of developing celiac disease.
What is Gluten?
Gluten is a general name for the proteins found in wheat, rye, barley. Gluten helps foods maintain their shape, acting as a glue that holds food together. Gluten can be found in many types of foods, medicines or even ones that would not be expected.
What are the clinical presentations of celiac disease?
Usually, a child can present when any food item containing gluten is introduced as a weaning food so commonly after 6 months to 24 months of age child can have signs or symptoms.
It is based on age at gluten introduction, amount of wheat eaten and duration of breastfeeding account for variability in age of onset of symptom.
It is very important to treat celiac disease as it may cause severe multi-organ involvement.
Common presentation:
Not gaining height & weight
Anemia
Chronic or recurrent diarrhea
Abdominal bloating, pain, constipation
Anorexia
Other symptoms may be related to other systems but not common:
Raised liver enzymes
Arthritis/ arthralgia
Osteoporosis
Neuropathy, epilepsy
Micronutrient/ vitamins deficiency-related problems
Condition at high risk for celiac disease:
Type 1 diabetes mellitus
Autoimmune thyroiditis
Autoimmune liver disease
How to diagnose Celiac disease?
Based on immune condition-related tests and tissue transglutaminase (anti -tTG) antibody or other serology test and Endoscopy (Intestinal biopsy) celiac disease is diagnosed.
What is the treatment of celiac disease?
Only dietary changes is the key treatment for celiac disease. Strict adherence to a gluten-free diet is the only treatment. It is a lifelong treatment.
Food items (Gluten containing) to be avoided:
Wheat / broken wheat (Dalia)
Maida
Rye
Barley
Semolina
Vermicelli (Sewain)
Oats (only labeled as gluten free)
Malt
Any packed /processed or canned food, sauces, ready to eat food products, bakery products like:
Pastas/Noodles
Breads and Pastries: croissants, pita, naan, flatbreads, muffins, donuts, rolls
Baked food: cakes, cookies, pie crusts, brownies
Cereal & Granola: corn flakes and rice puffs often contain malt extract/flavoring, granola often made with regular oats, not gluten-free oats
Breakfast Foods: pancakes, waffles, french toast, biscuits.
Sauces, Gravies(puries), instant curry mix, white vinegar, mayonnies, salad dressing
Packed Jam/ jelly/chewing gums
Flour tortillas
Outside Sweets, ice cream, chocolates
Chinese food
Health Drinks
Other items that must be verified by reading the label or checking with the manufacturer:
Lipstick, lip gloss, lip balm, or other cosmetic used near the mouth: They may be unintentionally ingested
Oral care and dental products
Herbal or nutritional supplements
Drugs and medications
Vitamins and supplements
How to read a label to check if a packaged food product /medicine is gluten-free?
1. A gluten-free label: FDA only allows packaged foods with less than 20 ppm of gluten to be labeled "gluten-free." However, you should still check the ingredients list. It is also important to remember that "wheat-free" does not necessarily mean "gluten-free." They may still contain other form of wheat, rye, or barley-based ingredients that are not gluten-free.
2. Check for obvious ingredients if there is no gluten free label:
Wheat
Barley
Rye
Malt
Oats (unless specifically labeled gluten-free
3. Check the allergen listing: Some packaging has a list of common allergens found in the product. Such allergens include wheat, soy, egg, nuts, and milk. This list can be a quick way to rule something out if the package says: "contains wheat." However, a lack of allergen labeling does not mean that the product is gluten-free. Barley and rye are not in the top eight allergens required to be listed. Be sure to check the ingredients list for other hidden sources of gluten.
4. To check gluten free drugs: Ask your pharmacist for gluten free medications. Medicines which contain wheat starch is usually avoided. Majority of them are gluten free but few antibiotics and other medications may contain gluten. Go through website www.glutenfreedrugs.com for more details.
What is Gluten Free diet? What can be given?
Rice
Corn (maize)
Sorghum (Jowar)
Millet (Bajra)
Quinoa (Rajgira)
Soy
Potato
Beans
Arrowroot
Amaranth (Aamla)
Flax (Alasi)
Chia
Gluten-free oats
Nut flours (gram flour, singhara flour)
Nuts
Fruits
Vegetables
Eggs
Meat and poultry
Fish and seafood
There has been some research that some naturally gluten-free grains may contain gluten from cross-contact with gluten-containing grains through harvesting and processing.
Other food items which can be given in children with celiac disease:
Homemade biscuits or cake made with rice, maize or arrowroot
Sugar candy
Homemade sweets, ice creams, fruit jam
Milk, tea, coffee, buttermilk, curd
Fruit juices (not canned)
Home made clear soups (no flour for thickening)
Homemade cottage cheese (Paneer)
Homemade squashes, pickles, tomato sauce or other gravies and puries
What are the key points to keep in mind for celiac disease treatment?
Gluten free diet is the only treatment, which is to be continued life- long.
Homemade grinding is preferred. Use separate atta maker (Atta Chakki) at home to prevent contamination for best outcome
Other vitamin supplements – iron, folic acid, calcium, vitamin D3, zinc, micronutrient supplements are must along with GFD( gluten free diet)
Problems due to low fibre diet needs to be addressed
Regular follow up & counselling by dietician & a gastroenterologist is must.
Periodic growth monitoring and serology testing
Compliance is must for diet
Treating doctor must be aware of Celiac crisis / re-feeding syndrome due to metabolic abnormalities